A special project for you to think about luxurious travel
Ueni Trading Company Ltd. (Head office: Taito Ward, Tokyo. Representative Director: Masahiro Miayagami), the exclusive distributor of German watch brand ZEPPELIN in Japan, will launch a promotion with a chance to win up to JPY 100,000 in coupons for Mercedes-Benz Rent (MB Rent).
https://zeppelinwatch.jp/pickup/mercedes-benz-rent-camapaign/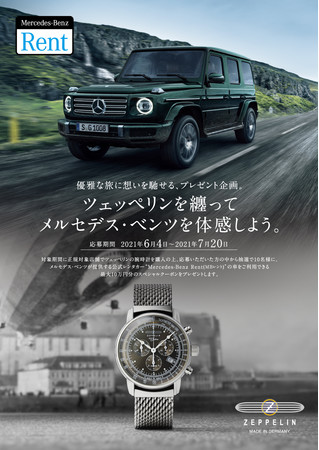 From June 4 to July 20, 2021, 10 lucky winners will be selected by lottery from among those who purchase a ZEPPELIN watch at an authorized participating ZEPPELIN store and apply for a special coupon worth up to JPY 100,000 to rent a car from Mercedes-Benz Rent (MB Rent), the official car rental service provided by Mercedes-Benz.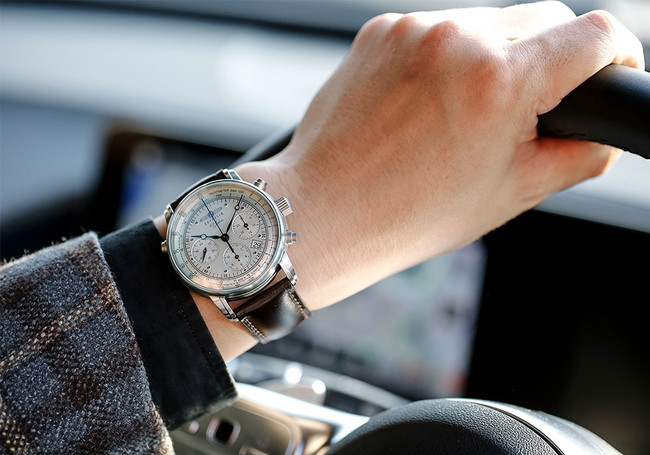 [Event overview]
■Application period: June 4, 2021 (Fri.) - July 20, 2021 (Tue.)
■Applicable products: ZEPPELIN watches
■Applicable stores: Stores in Tokyo and 3 prefectures that handle ZEPPELIN (approximately 200 stores)
■Prize: Mercedes-Benz Rent (MB Rent) coupon (up to JPY 100,000)
■Coupon expiration: October 31, 2021 (return deadline)
■Stores accepting coupons for car rentals: Mercedes me Tokyo (Roppongi)
Mercedes me @ Shinagawa Prince Hotel
■Special website: https://zeppelinwatch.jp/pickup/mercedes-benz-rent-camapaign/
■MB Rent official website: http://www.mercedes-benz.jp/mbrent/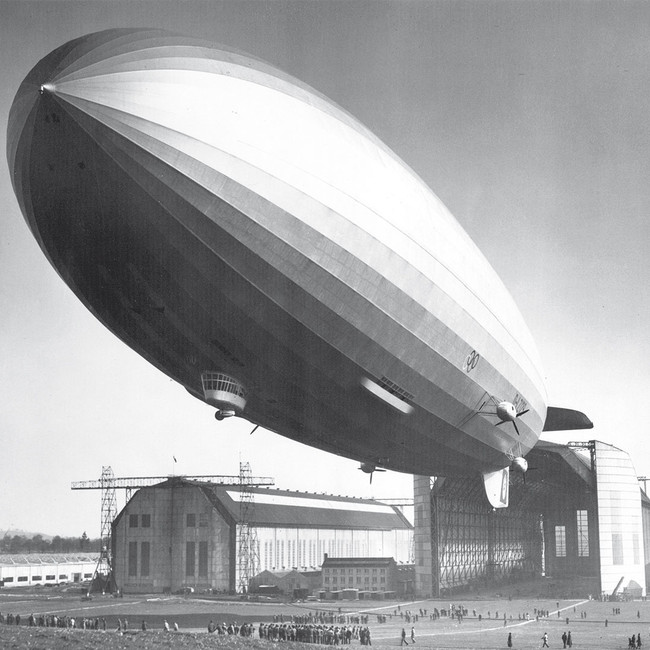 [Project purpose]
Airships and automobiles.
Thinking about the development of transportation and luxurious travel.
1900 - The first rigid airship Zeppelin "LZ1" is created.
1900 - Mercedes 35PS, the first Mercedes brand model, debuts.
Mercedes-Benz and Zeppelin both launched initial models that provided luxurious trips in Germany in the same year. We felt an affinity between the two brands because of their history of greatly developing the means of transportation for mankind, and launched a project on the theme of luxurious travel. We believe that this project will arouse the adventurous spirit of many people and contribute to enriching the lives of many.
ZEPPELIN Brand Manager Tetsuro Inui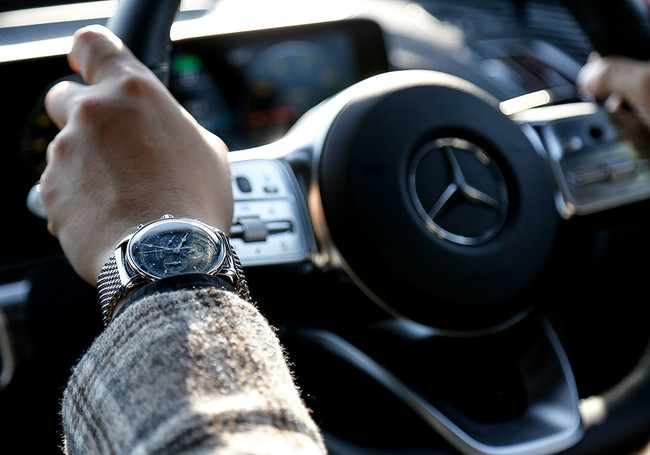 [Testimonials available!]
The ZEPPELIN brand team tried out MB Rent and wrote a piece detailing their trip to an area with connections to airships.
You can find the article here: https://zeppelinwatch.jp/pickup/mb-rent/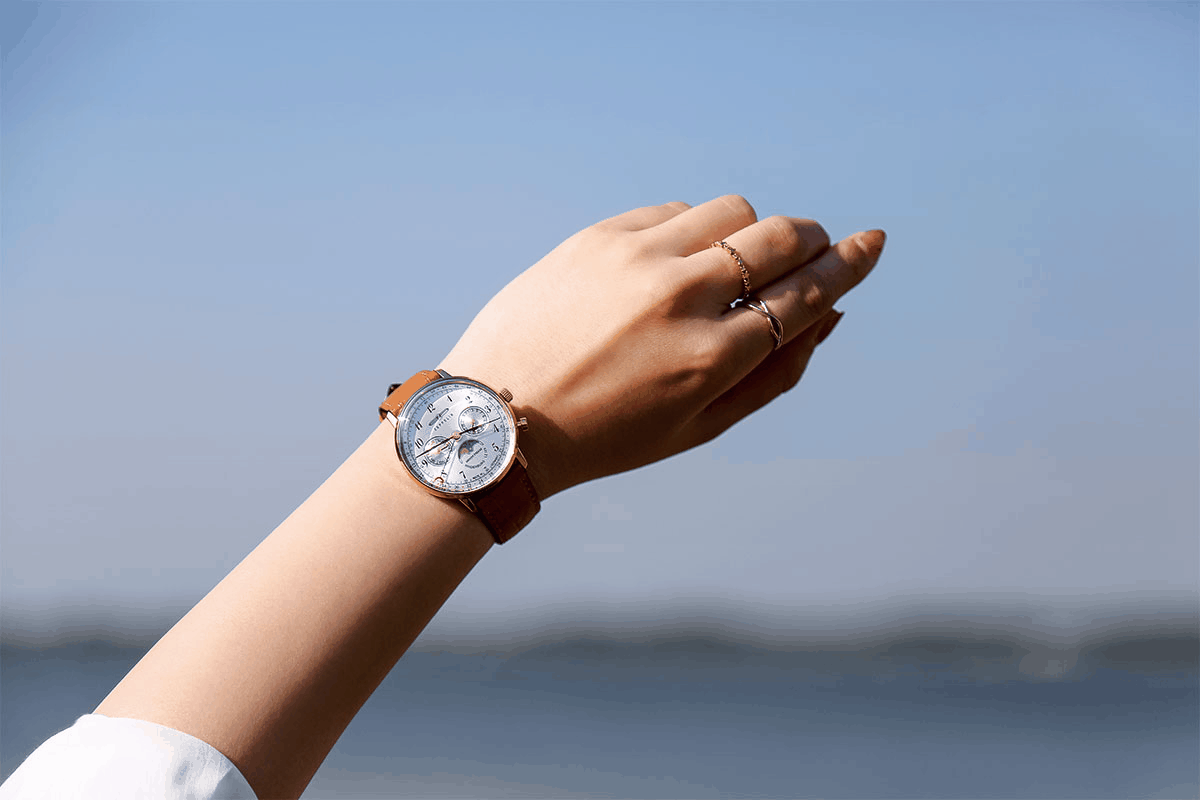 [Mercedes-Benz Rent (MB Rent)]
Mercedes-Benz Rent is a rental car service provided by Mercedes that lets you experience a new scene in your daily life.
You can enjoy Mercedes-Benz whether you're traveling or just going out.
Check out the official MB Rent website for details on the service and to make reservations.
MB Rent: http://www.mercedes-benz.jp/mbrent/
[ZEPPELIN airship]
The Zeppelin is a rigid airship developed by Count Ferdinand von Zeppelin in Germany in 1900.
The successful development of the Zeppelin enabled high-speed flight and larger airships, and marked the beginning of an era in which airships were used as a means of air transport. It was the "LZ127" and "LZ129" that made the Zeppelin famous worldwide.
LZ127
The LZ127 is an airship that made its maiden flight on September 18, 1928 and was the largest rigid airship at the time. It is also known as Graf Zeppelin. Graf means "Count" in German and is a reference to Count Zeppelin, who developed the airship. In 1929, Zeppelins became known around the world after it successfully completed a round-the-world trip from Lakehurst, New Jersey. It even stopped by Kasumigaura in Japan during its journey.
LZ129
The LZ129 was used in regular passenge flight operations for 14 months beginning in 1936. It was a massive rigid airship and is the largest flying machine ever built.
It was equipped with lounges and dining rooms, which is why it is often referred to as the most luxurious aircraft ever. The Hindenburg was named after Paul von Hindenburg, who was the President of Germany from 1925 to 1934.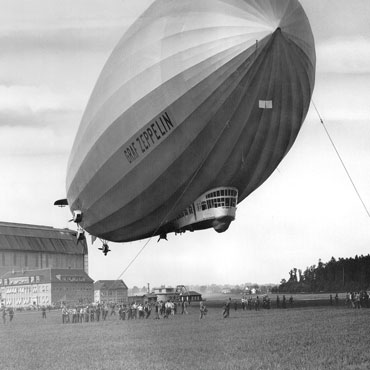 [ZEPPELIN watch]
The ZEPPELIN watch is a German watch with an airship motif made with a focus on quality.
This "Made in Germany" watch brand combines the classic design of Germany's renowned airship, the Zeppelin, with the "quality first" philosophy of German watches. The brand is sold in 35 countries around the world, including the United States and those in Europe.